About Us
The Gulf Coast Workforce Board and its operating affiliate Workforce Solutions, are the public workforce system in the 13-county Houston-Galveston region of Texas. We help employers meet their human resource needs and individuals build careers, so both can compete in the global economy.
---
Employer Service
Our Employer Service team provides individualized service that helps employers find qualified applicants for specific jobs and develop custom solutions to strengthen their current workforce. In 2018, our Employer Service team helped more than 29,000 employers find candidates to fill openings; outplace workers; and get advice on human resource issues and concerns.
We partner with the Texas Workforce Commission and other workforce boards in the largest job-matching database in the state - WorkInTexas.com.



---
Career Offices
With 27 Full-Time career offices and 10 Part-time offices across the region, the staff at these locations help people find jobs, keep jobs or get better jobs. We offer job search and job matching assistance, career counseling and financial aid for education/training or work support. The Board also funds adult education and literacy services through seven major providers.
Career Office Location Sheets
* Locations (List - PDF) Revised 08/19
* Locations (Numbered List and Map - PDF) Revised 08/19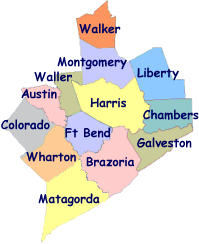 Our Full-Time and Part-Time career offices, and adult education providers serve many visitors each year. Over the last year, Workforce Solutions
• helped about 219,000 qualified job candidates go to work;
• helped more than 21,000 individuals improve their basic education skills; and
• Used $165 million in financial aid to provide education/training scholarships, work-based learning opportunities, work-search and work-entry support services, and assistance with early education and care expenses.
Our entire system works to provide individuals, students, parents, teachers and counselors with up-to-date and useful information on careers of the future - focusing on the high-skill, high-growth jobs that provide opportunities for growth and good wages.
---
The Gulf Coast Workforce Board
The Board is business-led and community focused, with approximately 43 members representing private sector business, education, organized labor, and community-based organizations. With participation from the region's chief elected officials, the Board sets the strategic direction for the regional workforce system and guides the area's workforce agenda focusing on four key results:

1. Competitive employers
What we do adds to our employers' bottom line by ensuring a qualified and skilled workforce, increasing productivity and promoting growth in the region's economy.
2. An educated workforce
Through our services and out relationships with partners, we look to improving education level of the region's residents as well as providing the best possible career information about jobs of the future.
3. More and better jobs
Partnering with the area's economic development organizations, chambers of commerce and business associations, we provide direct assistance and leverage efforts that support employers who are expanding, as well as start-ups and new businesses.
4. Higher incomes
Investing in employers' productivity and individuals' education and skill levels helps provide for rising family incomes. The Board also works with partners across the region to help low-income families move into more highly-skilled and better-paying jobs.
Career Planning Resources
Featured Jobs
Customer Service Representative

Posted on: 03.15.23 | Location: 77047– Astrodome

Warehouse Associate

Posted on: 03.15.23 | Location: 77474-Sealy

Call Center Sales Representative

Posted on: 03.15.23 | Location: 77450–Katy Mills

Medical Office Receptionist

Posted on: 03.16.23 | Location: 77381– Conroe
See More




Hiring Events
5th Ward Job and Resource Fair
March 31, 2023 11:00 a.m. - 2:00 p.m. | 5th Ward Multi-Service Center, 4014 Market St. Houston, TX 77020
See More
Hiring Events
Summer Job Fest
April 1, 2023 10:00 a.m. - 2:00 p.m. |
Care Where You Work Hiring Event
April 4, 2023 10:00 a.m. - 1:00 p.m. |
Hopewell Staffing Hiring Event
April 4, 2023 9:00 a.m. - 1:00 p.m. |
See More




Training Events
A Targeted Plan
April 6, 2023 9:30 - 11:00 a.m. | All Offices
Job Search Assistance
April 12, 2023 10:00 a.m. - 12:00 p.m. | Job Search Assistance
Job Readiness Toolkit
April 13, 2023 9:30 - 11:00 a.m. | All Offices
See More
Training Events
A Targeted Plan
May 4, 2023 9:30 - 11:00 a.m. | All Offices
Job Readiness Toolkit
May 11, 2023 9:30 - 11:00 a.m. | All Offices
Sharpening your Interview Skills
May 18, 2023 9:30 - 11:00 a.m. | All Offices
See More