About Us
Workforce Solutions, the public workforce system in the 13-county Houston-Galveston region, helps employers meet human resource needs and area residents build careers, so both can better compete in the global economy.
---
Employer Service Division
Customized services help employers find qualified applicants for specific jobs. We assist with recruiting, screening, referring and testing of job applicants to help simplify the hiring process. Workforce Solutions will also help employers strengthen their current workforce as well as get advice on human resource issues and concerns.

Workforce Solutions partners with businesses, educational institutions, civic organizations and community leaders to find solutions to labor needs of industries vital to the region and its economy.

As part of the statewide Texas Workforce Solutions network, we partner with the Texas Workforce Commission and other workforce boards in the largest job-matching database in the state - WorkInTexas.com.


---
Career Offices
Offering placement, career counseling and financial aid services, Workforce Solutions operates multiple community-based career offices to help residents find employment or advance their careers.
Career Office Location Sheets
* Locations (List - PDF) Revised 01/03/17
* Locations (Numbered List and Map - PDF) Revised 01/03/17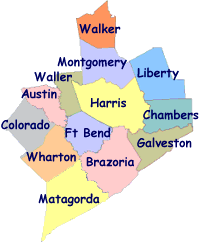 Our entire system works to provide individuals, students, parents, teachers, and counselors with current information on labor market data - focusing on high-skill, high-growth jobs that provide opportunities for growth, good wages and a more successful career.
---
How We're Funded Benefits You
Workforce Solutions is funded by state and federal tax dollars, which are redirected back into the Gulf Coast region for employment and job training. Services are offered at no cost to our customer.
Career Planning Resources
Featured Jobs
Remittance Processing Clerk

Posted on: 12.22.16 | Location: 77081- Southwest

Specialist IV/V - Technical Writing for Proposals

Posted on: 12.22.16 | Location: 77584 – Pearland

Collections Specialist

Posted on: 12.23.16 | Location: 77587 – South Houston

Electrician

Posted on: 12.23.16 | Location: 77058 – Clear Lake

LVN (Licensed Vocational Nurse)

Posted on: 12.27.16 | Location: 77590 – Texas City
See More




Hiring Events
US Census
Tuesday, January 24, 2017 9:00 a.m. to 4:00 p.m. |
Goodwill
Tuesday, January 24, 2017 1:00 p.m. to 3:00 p.m. |
City of Houston
Tuesday, January 24, 2017 10:00 a.m. to 12:00 p.m. |
See More